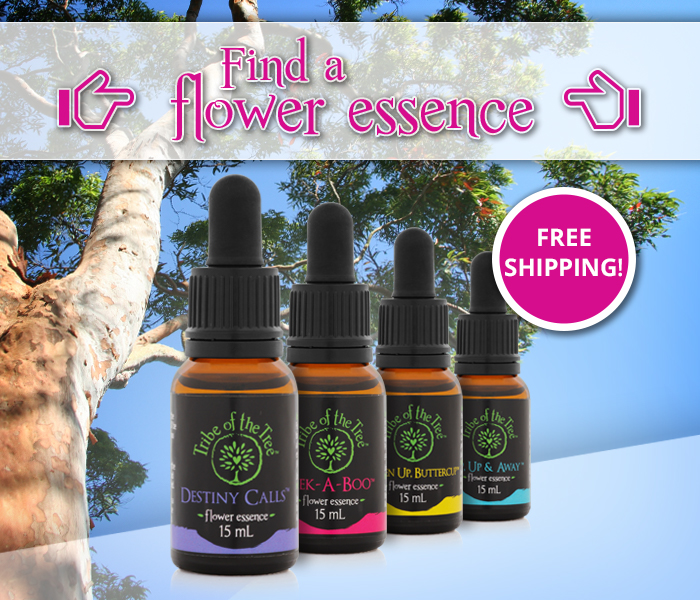 News & Events
Know someone who's got their grumpy pants on today? Whether it's you or …

The last couple of years have been a roller coaster, so if you're ready for a …

When you're ready to release the accumulating energetic residues of lessons …
Tribe Training!
NEW ONLINE LEVEL 1 COURSE
Coming soon!
Our new online training is nearly ready!
Learn to confidently choose the right flower essence for yourself, your family or your clients in this fun and inspiring 4-week course.
Featuring our famous flower essence meditations!
Join the waiting list to be the first to learn when bookings open.
Register Now
About The Tribe
Tribe of the Tree™ flower essences offer energetic healing, insight and wisdom, delivered with a healthy dose of love and a cheeky attitude.
Our mission is to help you reclaim the profound happiness, connection with source and reverence for nature that is, and always has been, yours for the taking.
Learn More About The Tribe
Become A Stockist
We're actively seeking new practitioner and retail stockists throughout Australia, so if our products seem like a good fit for your store or clinic, we'd love to hear from you. Join a growing band of Tribe stockists around Australia and apply today!
Apply Now
Loving my new essences!

I am loving my new essences. I really can't believe how ALIVE and 'in flow' I feel when I use them. It is amazing to know that I can really tune into myself and realign myself daily now that I have the Full Kit & Caboodle! My life will never be the same! :)

Read More Testimonials

A confidence boost from Up, Up & Away™

Well, lots of changes here already... my confidence... it's BACK! Will keep taking the Up, Up & Away™ essence but am really happy so far. BIG thank you and would definitely like to use again.

Read More Testimonials

Feeling calmer thanks to Go With The Flow™

I have been taking Go with the Flow™ consistently for about three weeks now and I can feel a big difference in my reactions. I normally tend to speak before think but since I started taking your essences I have been feeling calmer. The biggest change is that I have not needed to react to things, instead I've been able to observe what goes on and detach myself from the emotion, then decide how to respond. This is a big change for a busy working mum. I'm very thankful, as this not only impacts myself but my kids and the general family life in a very positive way.

Read More Testimonials